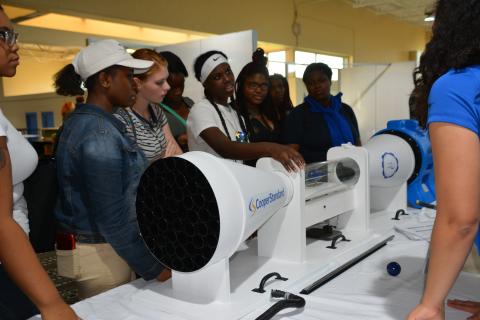 On October 4th, Cooper Standard and Dow Chemical helped kick off month-long Manufacturing Day activities with the National Association of Manufacturers (NAM) at S.A.Y. Detroit Play Center in Detroit, MI. Volunteers from the companies spent the afternoon with 40 local high school students to raise awareness about the many roles in manufacturing and the education pathways to achieve them.
During the event the students got to speak with a local college, and engage in 3-D printing and wind tunnel experiments. The high school students along with other students from the center also participated in a robotics demonstration put on by three high school competition teams. Jay Timmons, President and CEO of NAM, Mitch Albom, the Center's founder, and members of CS and Dow leadership attended the event and spoke to the students about becoming the next generation of manufacturing leaders. 
Click here to review a video.
Throughout October, 16 Cooper Standard facilities across North America will be hosting manufacturing day activities.