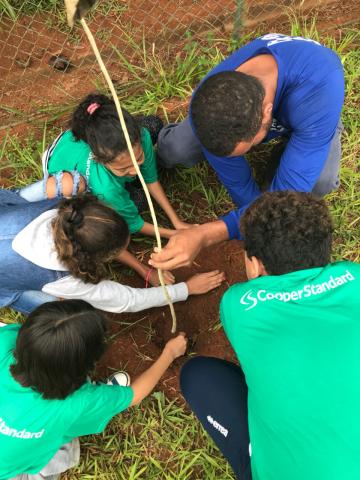 In April, Cooper Standard Brazil held a community outreach event for this year's Trilha do Conhecimento (Trail of Knowledge Project); an annual initiative to teach elementary students about sustainability in Brazil. This year, 55 fourth grade students from Dr. Iracy Figueiredo Municipal School, located in the city of Varginha (MG state) participated in the event.
As in previous years, Cooper Standard Brazil planned a day of activities including classes on sustainability, planting fruit tree seedlings and a visit to the factory to learn about the production process and waste reduction. For the final activity, the students painted messages about what they learned on a large canvas. The canvas will be taken to various Cooper Standard locations around the world to share their messages about the importance of sustainability.
Since its creation in 2014, the Trilha do Conhecimento project has held five editions of classes, with impact for over 250 students. The students have contributed to the community by planting more than 250 trees and applying their sustainability knowledge to promote environmental awareness.